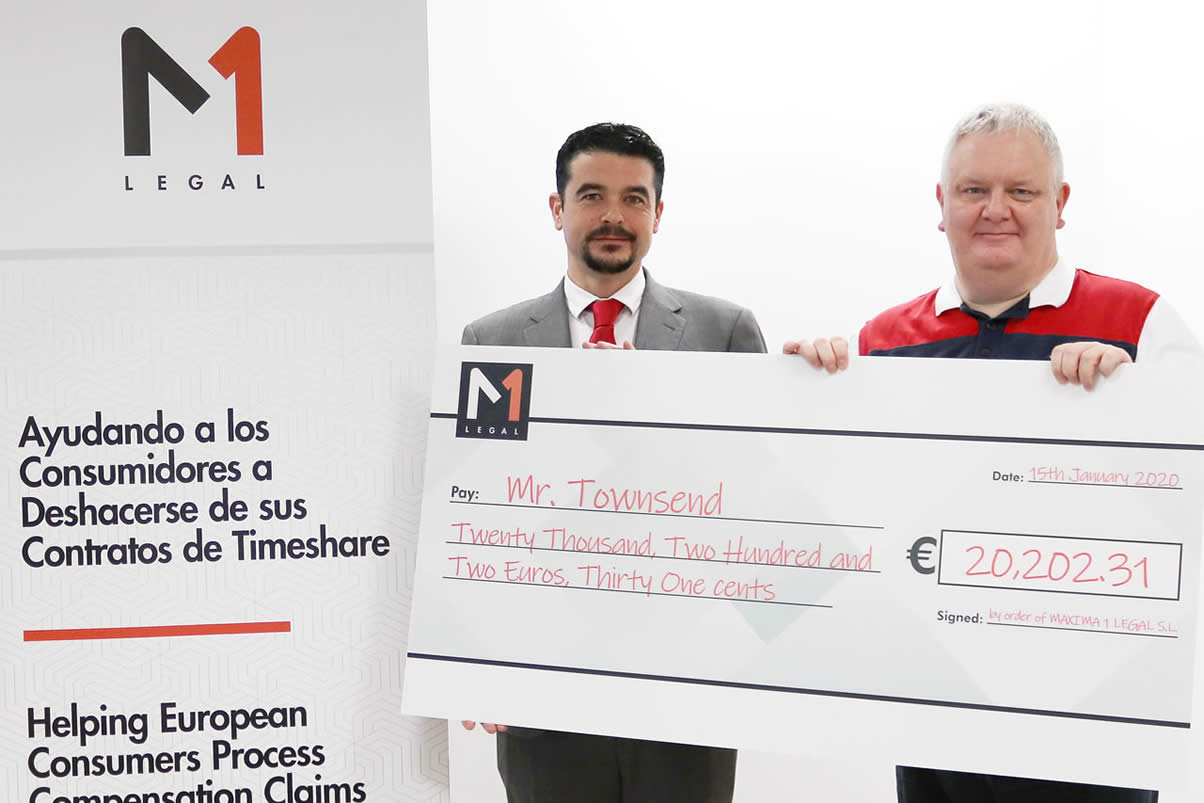 M1 Legal Victory Against Airtours Awards Client More Than €20,000
We were recently successful in securing a victory for our client, Mr. Townsend, against Airtours Sales España. European Consumer Claims of Henley-on-Thames, worked closely with us in helping our client exit from their unwanted timeshare.
We are currently processing over 1,500 timeshare cases of which 985 lawsuits have already been submitted to court at a value of over £21million pounds. Furthermore, we have achieved 195 favourable judgements totalling £3.1 million pounds.
Just a week ago, we reported another triumph where we aided our Hampshire clients in getting a €16,076 payout from Club La Costa due to their timeshare agreement being found not to be legally compliant.
"If there is anyone who is on the fence about pursuing a claim with ECC and M1 Legal, then I am happy to recommend them based on my personal experience," said Mr. Townsend of Cornwall. "It is my understanding that my case was not easy and I would like to thank M1 Legal for pushing to get a positive outcome."
Mr. Townsend brought his £8,211 timeshare in the year 2000. During the following 15 years, he paid out a further amount of over £20,000 in annual maintenance bills with them inflating over 110%.
"I saw it as a holiday the family could enjoy after I was gone - they could benefit from quality 5 star accommodation with facilities such as a spa and a private beach," said Mr Townsend. "But that was not the case, I later found out I had been misinformed and felt trapped with no option to sell. I was also becoming increasingly worried about my family being held liable for the annual maintenance bills." Mr. Townsend was incorrectly informed the by Airtours Beach Club salesperson although they had assured him that as a British company they could be trusted.
The court hearing was held at the Court of First Instance in Las Palmas, Gran Canaria. This case was against Airtours Sales España SL - an agent for Anfinpan SL. The judge sided in our favour as it was discovered that the contract did not comply with Spanish law. The lease was 96 years long and under Spanish law it cannot exceed the 50 year limit or it is considered to be in perpetuity. Moreover, the specified week Mr. Townsend had purchased, week 38, did not clearly state when the apartment was available to make use of and the accommodation had no registry number.
Mr. Townsend was able to relax knowing that his case had come to an end. He is intending to pass on a portion of the money on to family and possibly treat himself to a holiday too! "In early December 2019, M1 Legal informed me that the Judge had passed final judgement, and shortly before Christmas, I received the sum of €20,202."
Our client has urged others to consider their circumstances. "If anyone has a similar situation, my advice would be to go along to a meeting and see if you have a claim, and if you do, then you can take comfort in knowing that this company does pursue claims unlike others out there."