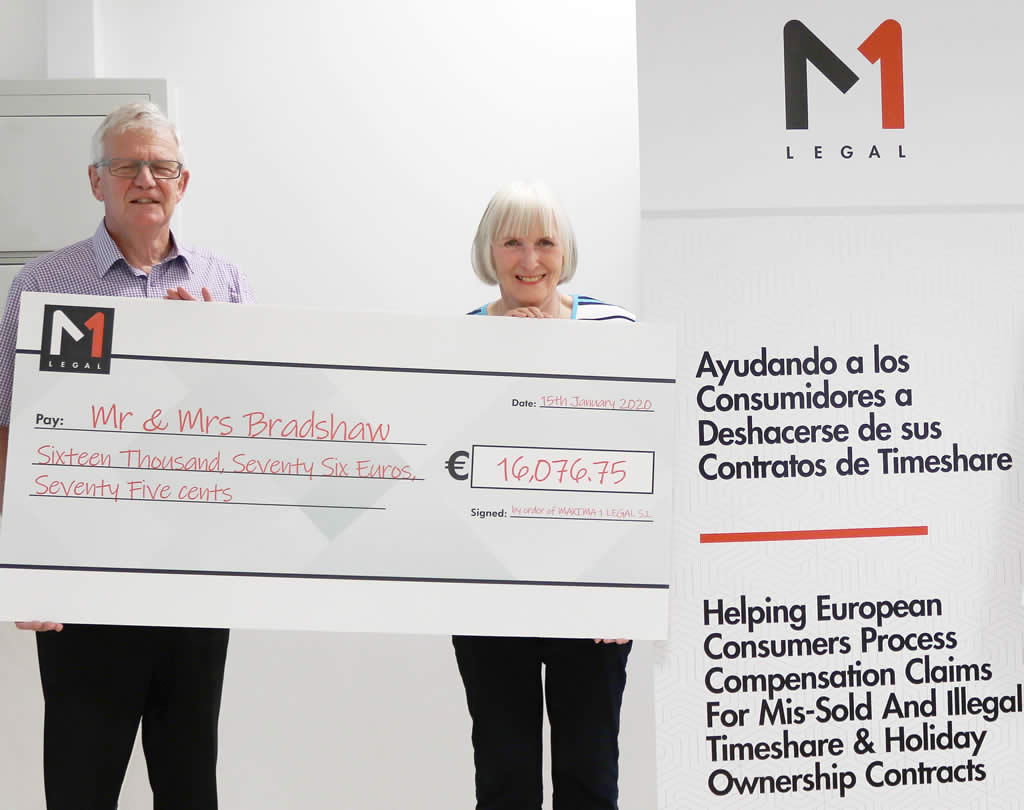 M1 Legal Win Case Against Club La Costa And Get Clients A €16,000 Payout
Our team at M1 Legal work alongside European Consumers Claims in tackling timeshare resorts to free owners of their unwanted timeshares.
We currently have 1,500 timeshare cases processing, of which 964 lawsuits have already been submitted to the court at a value of over £12million and to date, have achieved 191 favourable judgements totalling £3,1million. Our firm of international lawyers and legal representatives is based in Málaga, Spain.
This latest victory rewarded our clients just in time for Christmas. They commented that a "big weight has been lifted" now that they are released from their binding timeshare contract. You can view other victories we have aided ECC with at https://ecc-eu.com/latest-victories.
The Bradshaw's are one of thousands of consumers who have fallen victims to the unfair pressure selling tactics that have given the timeshare industry their well known crummy reputation.
The couple made their purchase in 2012 and paid £8,000 for the luxury of that fractional ownership. Prior to this, they had also spent £19,000 on other Club La Costa World related schemes. In addition, the couple faced over £5,000 in annual maintenance fees.
"We saw it as an investment, to enjoy quality holidays - and we were advised that we would have the option to sell our fractional ownership back to Club La Costa World after 19 years but this was not the case," Mr Bradshaw informed us. This is a common selling tactic that sales reps will use to paint the purchase in good light.
"When we found out what they had told us was not true, we felt trapped having discovered the fractional ownership was unsalable there being no resale market," added Mrs Bradshaw.
At this point their position seemed helpless. The couple were unable to sell a timeshare that charged constantly increasing maintenance fees. On top of this they had to pay just to book a disorganised and compromised holiday at a CLC Resort. Even when they finally arrived and tried to relax, a sales rep would come knocking on the door in an attempt to pester the couple into further purchases.
What made their situation all the more stressful was that if they hadn't been freed from their binding contract, their loved ones could have ended up inheriting the timeshare.
"We are so relieved that this burden has been removed because there would have been timeshare liabilities passed down to our estate," said Mr. and Mrs. Bradshaw.
In the end, the Bradshaw's decided enough was enough and went to meet an ECC consultant to find out if they could help them get out of their situation.
Following this, we initiated the legal proceedings against Club La Costa.
We carefully evaluated the contract that had been provided to the Bradshaw's during their purchase. It was found to contain illegalities under Spanish law. The contract failed to mention an end date and didn't state the land registry information that was detailed in the contract; these are both requirements under Spanish law.
The judge ruled in our favour and it is safe to say that our clients are pleased with the outcome. "We received €16,076 just in time for Christmas," said the Bradshaw's. "This was like a big cloud over us and now that it has been lifted we don't need to worry about family being lumbered with unwanted timeshare bills. We sincerely thank ECC and M1 Legal teams for their efforts."
The couple now look forward to their hard earned holidays; "We will never buy timeshare again. From now on we make our own holiday arrangements and for this year have booked a cruise to Russia."
The entire M1 Legal team and the ECC team are pleased to have delivered this result.
If you believe you may have been mis-sold your timeshare as were the Bradshaw's, get in contact with our legal team to discuss your options. Call us on 0203 769 8882 from the UK or on 951 562 203 from Spain.